Apply the learning from real-life projects and use cases executed by our customers, team, and partners using Quadrant's location data, to your own projects.
OFFLINE MARKETING MEASUREMENT, BUSINESS EXPANSION, AND BUILDING TAILORED DIGITAL CAMPAIGNS USING LOCATION DATA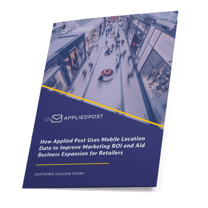 Applied Post is a Canada-based leader and innovator in consumer analytics. They bring data solutions to small and medium businesses, offering them actionable neighbourhood intelligence using their proprietary technology and mobile location data. Learn how they improved marketing ROI and supported data-driven business expansion for retailers across Canada using Quadrant's location data.
---
IMPROVING TRAFFIC MONITORING AND MOBILITY SYSTEMS ACROSS MEXICO WITH QUADRANT'S LOCATION DATA

SinTráfico is a leading mobility intelligence platform in Mexico. They create smart mobility ecosystems that empower agencies in the out-of-home advertising space, retailers, infrastructure companies, and governments. Learn how SinTráfico used Quadrant's data solutions to improve data availability and scale operations throughout Mexico.
---
SCALING MEDIA OPERATIONS TO NEW COUNTRIES AND REGIONS WITH QUADRANT'S LOCATION DATA

Moving Walls is a global advertising technology provider. They work with the world's leading advertisers, media agencies, and over 100 media asset owners to bring transparency and automation to Out-of-Home media. Their location intelligence platform caters to every digital, static, indoor, or outdoor media type across the world. Learn how they scaled media operations to new countries and regions with Quadrant's location data.